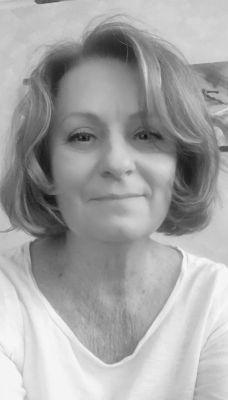 People ask me all the time, where my inspiration comes from. It could be the vibrant hues in a sunset, or the sunlight reflecting off the water. It is also the soft petals of a rose, the bristled hair on a caterpillar and even the bark of a tree. Everything, everywhere is adorned in a seemingly random array of beautiful colors and texture. I am inspired by those elements and try to capture the feeling of it in my art. I want my paintings to go beyond the visual beauty of color, by capturing the sensation of texture that can only be experienced through touch. My art is an attempt to bring that experience to others, so they can bring it into their home.
My process is intuitive. There isn't any "planning or thinking" about what I'm going to paint; I just have a feeling and I allow it to flow onto my canvas, trusting the process. When I finish a painting, it is as new to me, as it is for someone else looking at it. My primary medium is acrylics, though I also like to work with oils and other mediums. I am always pushing myself to experiment with new tools to achieve the texture I'm looking for.
There is a lot of texture in my paintings. It has only been through the ardent process of trying new techniques that I developed my own impasto style of painting, which has become a trademark of my work. Texture brings a sensual experience to my art, allowing others to connect with a painting on multiple levels.
My hope is to bring as much joy to others with my art, as it gives to me when I'm creating it. I encourage others not to look for something in my paintings, but instead be aware of how it makes you feel. Also, feel free to touch them and experience art differently.
Education
Carla had an interest in art at a young age but took it seriously in high school where she was nurtured by her art teacher. Carla received a scholarship to the art program at the University of Kansas, and continued self study programs, until later in life when she went back to college and continued her art education at Augustana University, in South Dakota. Her studies included various mediums, but she placed her concentration on painting, where she was introduced to the freestyle of abstract painting.
Style
Carla works mostly in heavy body acrylics, but she loves to experiment with other mediums and tools to create texture in her paintings. Her work is colorful and abstract, with layers of texture, which invokes a creative energy in her paintings that one feels when they look at them. Carla allows people to touch her paintings in order to experience the sensual feeling that texture brings to art. Carla's paintings are all created on gallery-wrapped, box canvases, ready to hang.
Family
Carla and her husband, Brad have been together for 25 years. They have five grown children and fourteen grandchildren. They are originally from South Dakota but now reside in Southwest Florida.
Exhibitions
Horse Barn Arts Center, Sioux Falls SD - Solo show 2008
Sioux Falls City Wide, Fine Arts Tour show 2008
WildChild Gallery, Matlacha, FL - Exhibit - Solo Shows 2010 and 2013
MiniCooper Celebrity Private Client Exhibit, Fort Myers, FL - Group Show 2015
Alliance for the Arts, All Florida Juried Exhibit - Group Show 2017
Light Space and Time Gallery, Juried Exhibit - Group Show 2017 and 2020.
Gallery Representation
Cliff Hangers Gallery, Sioux Falls, SD 2008-2010
WildChild Art Gallery, Matlacha, FL 2009-2018
Charity Auction Events
Child Cancer Fundraiser - Seattle, WA
Arts for A.C.T. (Abuse Counseling & Treatment) - Fort Myers, FL
Ronald McDonald House Ball, Naples, FL
Holiday for Heroes, Cape Coral, FL
Collectors Include:
Mrs. Helen Hoffman, Sioux Falls, SD
Emily Dykstra, Sioux Falls, SD
Mr & Mrs. Robert Ruf, Hartford, SD
Private collector - Sioux Falls, SD
Mr & Mrs. Les Anderson, Alden, MN
Mrs. Mona VanErdewyk, Prior Lake, MN
Mr. & Mrs Marvin Wormington Jr, St. Louis, MO
Mr. & Mrs. Marvin Wormington Sr., Jackson, MO
Mr. & Mrs. Jesse James, Elkhart, Indiana
Mrs. Larissa Strong, Bedford NH
Mr. John Encinio, Minneapolis, MN
Mr. & Mrs. Wayne Lambert, Goshen, IN
Private collector, Mississippi
Private Collector, Ohio
Private Collector, Pennsylvania
Ms. Peggy McTeague, Cape Coral FL
Ms. Dawn Wood, Cape Coral FL
Private Collector, Ft. Myers, FL
Private Collector, Ft. Myers, FL
Private Business Owner, Cape Coral, FL
Mr. and Mrs. Rodney Hoffman, San Antonio, TX
Mr. Norman Wormington, Houston, TX
Mrs. Lori Hoffman, Lake Orion, MI
Mr. David Sundell, Cape Coral, FL
Mrs. Marcella Prokop, Sioux Falls, SD
Mr. Mark Rathbun, Sioux Falls, SD
Mrs. Kate Johnson, Denver, CO
Ms. Amanda Wormington, Kansas City MO
Mrs. Dena Hoffman, Prior Lake, MN
Private Collector, Naples, FL
Private Collector, Marco Island, FL