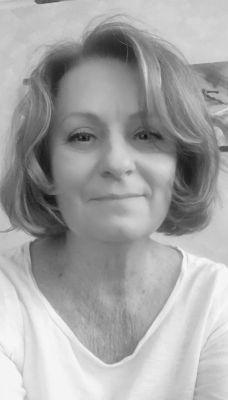 People ask me all the time, where my inspiration comes from. It could be the vibrant hues in a sunset, or the sunlight reflecting off the water. It is also the soft petals of a rose, the bristled hair on a caterpillar and even the bark of a tree. Everything, everywhere is adorned in a seemingly random array of beautiful colors and texture. I am inspired by those elements and try to capture the feeling of it in my art. I want my paintings to go beyond the visual beauty of color, by capturing the sensation of texture that can only be experienced through touch. My art is an attempt to bring that experience to others, so they can bring it into their home.
My process is intuitive. There isn't any "planning or thinking" about what I'm going to paint; I just have a feeling and I allow it to flow onto my canvas, trusting the process. When I finish a painting, it is as new to me, as it is for someone else looking at it. My primary medium is acrylics, though I also like to work with oils and other mediums. I am always pushing myself to experiment with new tools to achieve the texture I'm looking for.
There is a lot of texture in my paintings. It has only been through the ardent process of trying new techniques that I developed my own impasto style of painting, which has become a trademark of my work. Texture brings a sensual experience to my art, allowing others to connect with a painting on multiple levels.
My hope is to bring as much joy to others with my art, as it gives to me when I'm creating it. I encourage others not to look for something in my paintings, but instead be aware of how it makes you feel. Also, feel free to touch them and experience art differently.
Biography
Abstract artist, Carla Wormington, was already drawn to creating rich textures and bright colors in her paintings, but when her grandson told her how much he loved her work, she felt driven by a new sense of inspiration and purpose. Her grandson, she learned, is severely colorblind. He lives in a mostly gray world, and only very bright, vivid colors break through the monochrome. He told Wormington that not only did he love the texture of her work, but he could actually see the colors.
"Since that conversation with my grandson," Wormington says, "I've become aware that I have a huge following of men that love my paintings. I've learned that 8% of all men are color blind, and it makes me wonder if my followers have the same experience as my grandson when they look at my paintings." Whether colorblind or not, collectors and viewers of Wormington's abstracts find energy and beauty in her use of color.
Wormington was born in Topeka, Kansas, the oldest girl in a family with eight children. While she was growing up, her stepfather was in the military, and the family moved every three years. Wormington lived in Texas, Missouri, Kansas, California, and England during her early years. All of this moving ingrained in her a love of traveling and the history of other cultures.
As a child, Wormington was active and tomboyish, enjoying playing baseball, riding bikes, and hunting for tarantulas with her brothers. Her mother tried putting her in ballet lessons, but her efforts were in vain.
Artistic herself, the only way Wormington's mother could keep her busy was with art supplies. Wormington loved to draw and paint, and pleased with this more sophisticated interest, her mother encouraged her to continue improving and to enter a school art contest in fifth grade. Wormington won first place and was excited to see her painting hanging in the foyer for a month.
In high school, Wormington found more encouragement from her art teacher, Mrs. Sue Pollock. She taught Carla how to see the beauty in everyday things and encouraged her to experiment with different mediums: oil paints, watercolors, charcoal, pen and ink. She also took her students to art museums and let them experience the work of great artists.
As her family grew, so did Wormington's responsibilities, and she found herself working hard to help with her younger siblings and with the family's financial situation. After a period of working multiple part-time jobs while attending school, Wormington left home at sixteen, beginning a full-time job at a nursing home and finishing her high school education through night classes.
As an adult, Wormington moved a few times for work, living in Colorado, New Mexico, California, and finally South Dakota, where she settled and met her husband and biggest fan.
While raising a family, Wormington continued to work, building a successful career in risk management and marketing in the commercial insurance industry. While she enjoyed her work, eventually she needed a change, so she returned to art. In 2002, she returned to college and began taking art classes, ranging from painting and drawing to printmaking and pottery. "That was the turning point in my life," she says. "It was at college where I sold my first painting."
It was also during this college experience that one of her professors pushed her to try abstract painting, which was a dramatic change from her former devotion to realism. Wormington recalls, "At first the whole concept of not painting an image on my canvas scared me to death, but once I got more comfortable with just relaxing and letting my instincts take over, I became more excited than ever about painting."
Wormington has continued to develop as an artist through private classes from other talented and successful artists. She is constantly learning and experimenting, always looking for new tools that provide unique textures to her paintings. Through this experimentation she has discovered her own impasto style, which has become one of her trademarks.
Among Wormington's artistic influences are Monet, Van Gogh, Picasso, Jackson Pollock, and Jonas Gerard. She finds inspiration in the way these artists' work plays with color and texture.
When creating in her home studio in Cape Coral, Florida, Wormington uses a spontaneous and intuitive process. "The colors, the texture, the feel…it pours from me to the canvas, and I allow it," she explains. "There is such a sense of freedom with it, a feeling of letting go. Sometimes I am moved deeply by an event that touches me emotionally, and I retreat to my studio and something unique emerges. I never know what's going to come out of me at any given moment."
Wormington has earned a number of awards and honors for her vibrant abstracts, including 3rd place, 6th place, and Special Merit Awards in two online shows with more than 1000 international submissions. Her work has been shown in exhibitions at galleries and art centers across Florida and South Dakota as well as at charity auction events.
Before moving to Florida, Wormington was a member of the South Dakota Art Association and the Sioux Falls Horse Barn Art Center, where she had her first solo show before graduating from college in 2006. She currently belongs to the Alliance for the Arts in Fort Myers, Florida.
Wormington still finds peace in her busy life through her art. "It is my sanctuary where I can freely create from my soul. It's a reflection of me. It is what I am. Jackson Pollock said it best: 'Painting is self-discovery. Every good artist paints what he is.'"
When she is not painting, Wormington is often traveling, camping, fishing, or sailing with her husband. They are both avid sailors with a 47ft Pan Oceanic sailboat, which they spent years refitting. She also considers herself to be a semi-professional photographer, which was her creative outlet during her years raising children and working full time.
Wormington encourages viewers, "Don't try to 'see' something in my paintings but instead, be aware of what you feel from it" and to "feel free to touch them and experience art differently." She hopes to "bring as much joy to others with my art, as it gives to me when I'm creating it. Within every painting, I leave a piece of my soul. I bare myself to the world through my paintings, and I hope that others find a connection, where even one speaks to them deeply.
Resume
Education
Carla had an interest in art at a young age but took it seriously in high school where she was nurtured by her art teacher. Carla received a scholarship to the art program at the University of Kansas, and continued self study programs, until later in life when she went back to college and continued her art education at Augustana University, in South Dakota. Her studies included various mediums, but she placed her concentration on painting, where she was introduced to the freestyle of abstract painting.
Style
Carla works mostly in heavy body acrylics, but she loves to experiment with other mediums and tools to create texture in her paintings. Her work is colorful and abstract, with layers of texture, which invokes a creative energy in her paintings that one feels when they look at them. Carla allows people to touch her paintings in order to experience the sensual feeling that texture brings to art. Carla's paintings are all created on gallery-wrapped, box canvases, ready to hang.
Family
Carla and her husband, Brad have been together for 25 years. They have five grown children and fourteen grandchildren. They are originally from South Dakota but now reside in Southwest Florida.
Exhibitions
Horse Barn Arts Center, Sioux Falls SD - Solo show 2008
Sioux Falls City Wide, Fine Arts Tour show 2008
WildChild Gallery, Matlacha, FL - Exhibit - Solo Shows 2010 and 2013
MiniCooper Celebrity Private Client Exhibit, Fort Myers, FL - Group Show 2015
Alliance for the Arts, All Florida Juried Exhibit - Group Show 2017
Light Space and Time Gallery, Juried Exhibit - Group Show 2017 and 2020.
Gallery Representation
Cliff Hangers Gallery, Sioux Falls, SD 2008-2010
WildChild Art Gallery, Matlacha, FL 2009-2018
Charity Auction Events
Child Cancer Fundraiser - Seattle, WA
Arts for A.C.T. (Abuse Counseling & Treatment) - Fort Myers, FL
Ronald McDonald House Ball, Naples, FL
Holiday for Heroes, Cape Coral, FL
Collectors Include:
Mrs. Helen Hoffman, Sioux Falls, SD
Emily Dykstra, Sioux Falls, SD
Mr & Mrs. Robert Ruf, Hartford, SD
Private collector - Sioux Falls, SD
Mr & Mrs. Les Anderson, Alden, MN
Mrs. Mona VanErdewyk, Prior Lake, MN
Mr. & Mrs Marvin Wormington Jr, St. Louis, MO
Mr. & Mrs. Marvin Wormington Sr., Jackson, MO
Mr. & Mrs. Jesse James, Elkhart, Indiana
Mrs. Larissa Strong, Bedford NH
Mr. John Encinio, Minneapolis, MN
Mr. & Mrs. Wayne Lambert, Goshen, IN
Private collector, Mississippi
Private Collector, Ohio
Private Collector, Pennsylvania
Ms. Peggy McTeague, Cape Coral FL
Ms. Dawn Wood, Cape Coral FL
Private Collector, Ft. Myers, FL
Private Collector, Ft. Myers, FL
Private Business Owner, Cape Coral, FL
Mr. and Mrs. Rodney Hoffman, San Antonio, TX
Mr. Norman Wormington, Houston, TX
Mrs. Lori Hoffman, Lake Orion, MI
Mr. David Sundell, Cape Coral, FL
Mrs. Marcella Prokop, Sioux Falls, SD
Mr. Mark Rathbun, Sioux Falls, SD
Mrs. Kate Johnson, Denver, CO
Ms. Amanda Wormington, Kansas City MO
Mrs. Dena Hoffman, Prior Lake, MN
Private Collector, Naples, FL
Private Collector, Marco Island, FL